The Department of Education (DepEd) Psychosocial Support Activity Pack: A Teacher's Guide (All Levels) provides guidance for teachers to conduct psychosocial support activities for learners, in line with the in-person learning modality during the new normal.
You may access the copy of the Psychosocial Support Activity Pack, and Evaluation Guide and Tool, as well as video recordings through this link: https://drive.google.com/drive/folders/1hAzWgzmBfPYlABJekAjBfrY2DKOBTLW6
DepEd Psychosocial Support Activity Pack: A Teacher's Guide (All Levels)
Disasters and/or emergencies severely impact the education sector. The most obvious impacts include damages to school buildings, equipment, and materials, use of schools as evacuation centers, suspension of classes, school closures due to lockdowns, and overall disruption to teaching and learning. These severe damages and losses, and sudden changes in the way of life of learners and education sector personnel bring crises that consequently affect their mental health and well-being as they experience distress, dysfunction, or even grief.
The crises brought by these disasters and/or emergencies put individuals temporarily out of balance, if not severely distressed. For some, prolonged disruption of learning, isolation, and interruption of social life within the school community may cause severe stress and psychological consequences, e.g., feeling overwhelmed and anxious, experiencing learning difficulties, becoming distressed or dysfunctional over changes in routine. Others may have experienced violence and neglect, causing trauma. Children coming from low-income families become more vulnerable to risks brought by economic losses due to disasters and/or emergencies. With the complex impacts of disasters and/or emergencies, teachers and school personnel must meet the learners where they are as they work toward learning continuity while prioritizing learners' recovery towards enhanced well-being. Accordingly, Psychosocial Support (PSS) will be significant in working on these huge tasks.
PSS pertains to specific processes and actions that promote the holistic well-being and resilience of individuals. Holistic well-being includes learners' access to learning opportunities and capacities for learning achievement. For learners, schools or temporary learning spaces (TLS) are some of the most beneficial environments for the facilitation of psychosocial support processes and actions through play or arts-based activities. Psychosocial support activities bring learners, teachers, as well as parents or guardians together in creating a supportive environment that promotes recovery from the impacts of disasters and/or emergencies, improved psychosocial well-being, and successful learning continuity.
Further, PSS activities support the development of competencies related to Social and Emotional Learning (SEL). Such core competencies include recognition and management of emotions, setting and achieving goals, appreciating the perspectives of others, establishing and maintaining positive relationships, making responsible decisions, and handling interpersonal situations constructively, among others.
Ultimately, the development of SEL-related competencies and the recovery of learners from the impacts of disasters and/or emergencies foster improved learning capacity and resilience. When school communities facilitate PSS activities for learners, they support learners' readiness to learn, and their capacity to overcome, be strengthened, and transformed by life's future adversities.
The illustration below will help you better understand the importance of these processes and components toward learners' recovery and learning: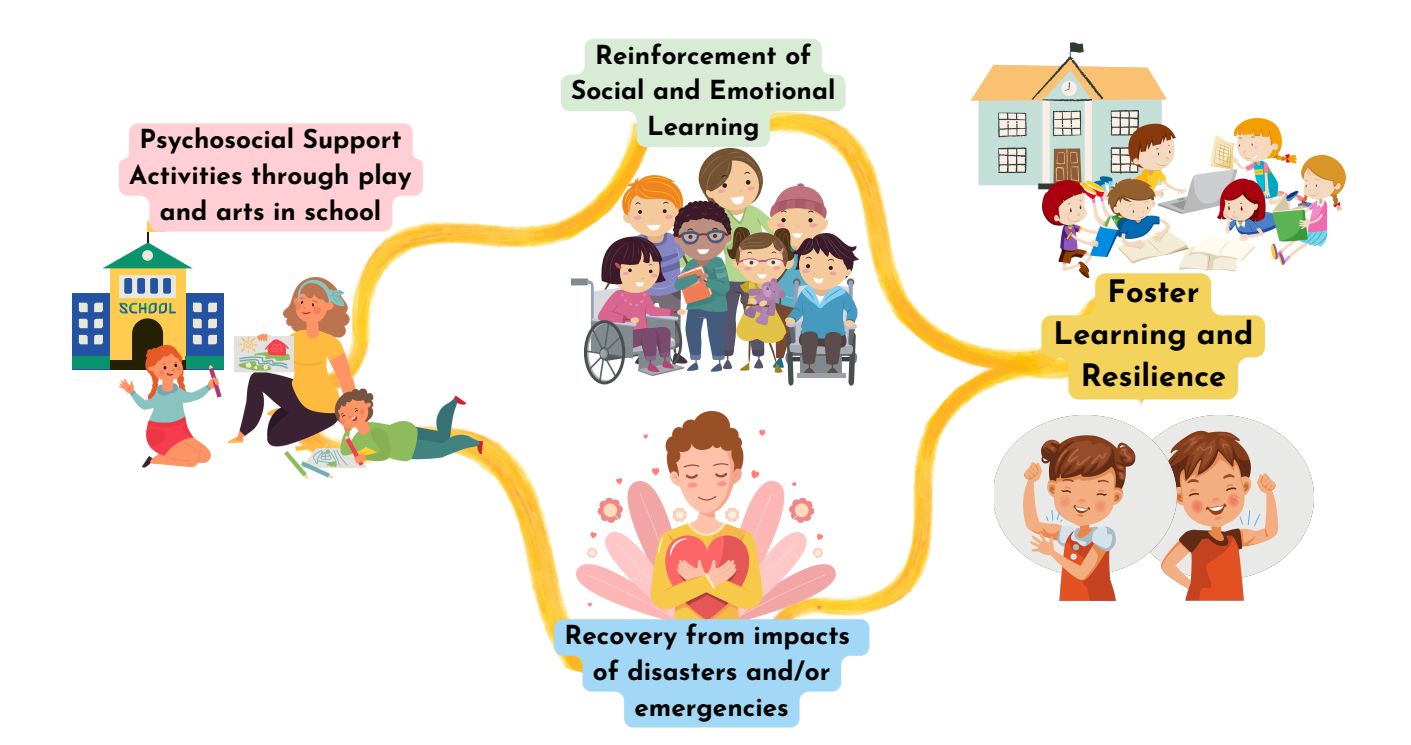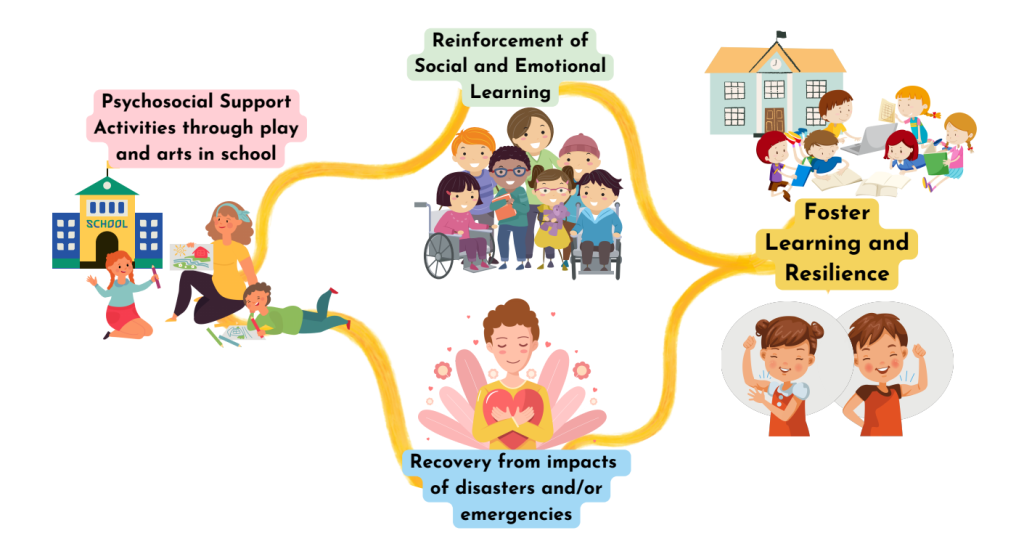 When disasters and/or emergencies strike, the education sector must come together to ensure both learning continuity and the prioritization of learners' well-being. The provision of mental health and psychosocial support services through the conduct and facilitation of psychosocial support activities is essential to ensure that learners can access opportunities for recovery and develop SEL-related core competencies. Both objectives lead to the overall goal of fostering learning and resilience. Hence, the Department of Education, through the Disaster Risk Reduction and Management Service (DRRMS) together with MAGIS Creative Spaces, Inc., has developed the Psychosocial Support Activity Pack: A Teacher's Guide (All Levels) to support and guide teachers in conducting psychosocial support activities for learners in in-person learning modality.
In this pack, you will find a handful of play and arts-based PSS activities that have been thoughtfully designed to assist in learners' recovery and learning, and enrich learners' SEL-related core competencies, which are referred to in this pack as the 7 S' of Psychosocial Support, and ultimately support the development of their resilience towards safer, better protected, and stronger future.