The Philippine Early Childhood Development (Phil. ECD) Checklist is designed for service providers like teachers, rural health midwives, child development and day care workers, parents/caregivers who can easily administer after a brief training period. By using the checklist, they will be able to determine if a child is developing adequately, or is at risk for developmental delays.
This Checklist is NOT intended to be used to 1) make a medical diagnosis; 2) determine a child's intelligence quotient or IQ; or 3) gauge his academic achievement. It is only the first of several steps in a comprehensive assessment process that a child at risk is expected to go through so he can get the help he needs as early as possible.
The Checklist consists of a Child's Record, divided into two parts: Child's Record 1 for children aged 0 months to 3.0 years; Child Record 2 is for children aged 3 years and 1 month to 5 years and 11 months. The items in the Checklist are grouped into seven domains: 1) gross motor, 2) fine motor, 3) self-help, 4) receptive language, 5) expressive language, 6) cognitive, and 7) social-emotional. The Child Record 2 will be utilized for the kindergarten learners of the Department of Education.
The choice of items was based on statistical validation while the test has been normed based on a sample of 10,915 children from the NCR, III, VI, VII, VIII, and XII.
The Checklist is thus a product of careful refinement and validation. It is a monitoring tool suited to the needs of the Filipino child.
We hope that this Checklist will serve as a valuable tool not only in monitoring the Filipino child's growth and development but also in ensuring that he or she enjoys a care and nurturing environment, thus assuring him or her of a secure tomorrow.
Testing Considerations
Physical Conditions
The Checklist can be administered in a setting familiar to the respondents. Ideally, the place should be relatively quiet, well lighted and ventilated, and have a table and chairs to provide comfortable conditions for the respondents and examiner.
If conducted outdoors and there is no table, any flat work surface will suffice.
Standard Procedures
The examiner can employ various methods to determine if the child exhibits specified behaviour. These include observation, direct elicitation of the behaviour from the child, and also interview of the parents(s) or caregiver(s).
When interviewing the parents(s) or caregiver(s), the examiner may wish to use the opportunity to ask them what activities they do at home to stimulate the development of their child. Their responses can be recorded on a separate sheet.
Older children aged 2.6 years and above may be tested in small groups of 2-3 similarly aged youngsters if the examiner feels this will make them more responsive to her queries and request. This especially if they have not had any day care or pre-school experience.
Administration Time
Each form of the revised ECD Checklist should not take more than 45 minutes to administer.
Fundamentals in Administration
Rapport-building is very important, especially when the child is not familiar with the examiner. So be sure to spend a few minutes interacting with the child by playing or chatting with him. It may help when the items, which involve interviewing the parents / caregiver, are administered first with the child nearby. This will make him realize that the examiner is a kind, caring person and facilitate the rapport-building process.
The examiner must emphasize that there are neither right or wrong answers nor good or bad scores. This will assure greater accuracy in what parents/ caregivers report and decrease the incidence of a child's giving an answer based on what the others in the group have said.
The examiner must refrain from "teaching" the correct answer because this Checklist is intended to be given to the same child at a later point in time. If the child has been taught the answer, it will be difficult to determine if his success was due to this or to his expected maturation.
Answer that do not seem to exactly correspond to the intent of an item are to be written in the "Comments" column of the tool. These can serve as reference points of a child's progress when the checklist is administered to him again at a later date.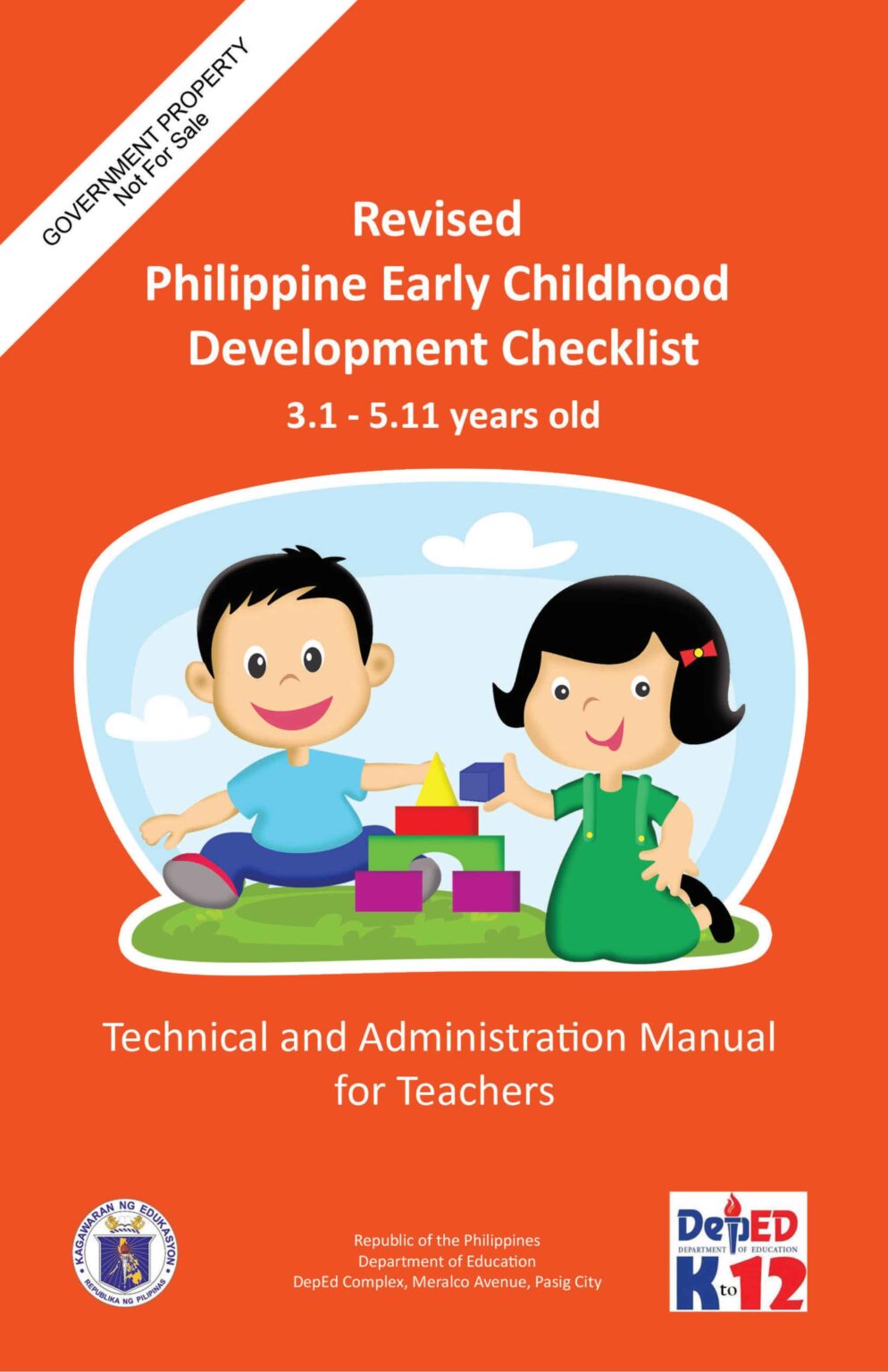 Download 2019 Philippine Early Childhood Development Checklist: Click Here